VRX 1000-F
The Apollo VRX 1000-F Quad is the latest in the children's quad category, ideal for safe initiation!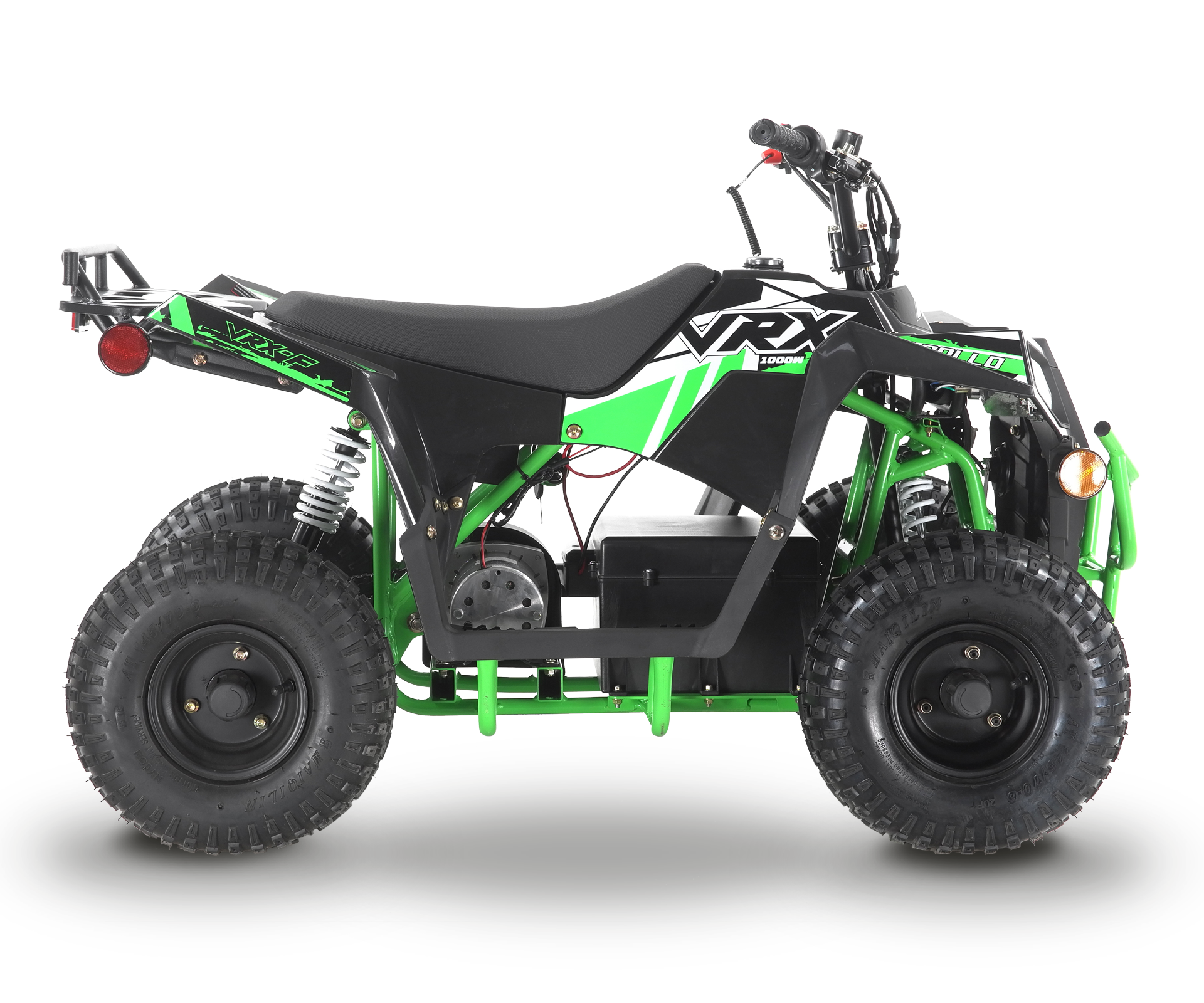 We offer our customers the latest addition to the Apollo ATV's range! This quad for kids is ideal for all children who start, this mini quad is equipped with its 6-inch wheels gives it a stability and maneuverability to any terrain.
The Apollo VRX 1000-F quad is the latest in the children's quad category, ideal for safe initiation! Its 36v and 1000w automatic electric motor features the latest EASY START start-up system and a 3 speeds regulator.
All safety features currently available on the market: circuit breaker cord, speed limiter, front / rear disc brake, chain guard.
From an esthetic point of view, this quad uses one of the latest water-based printing methods on its plastics and a high-end color seat cover!
Do not hesitate to contact our Customer Service if you need information for the maintenance of your quad!
Amazing look!
High-end color saddle
Quad to start
Speed ​​limiter with flange (3 positions)
Electric motor 36v 1000w
Easy start system "easy start"
6 inch wheels
Cycle part
Double beam - Tubular steel
The closest Apollo dealer is more than 100km away?
Buy and finance your Apollo vehicle online now
Further information
The use of Mini-Quads is strictly forbidden on roads open to public traffic. The use of a Mini-Quad not homologated for the public road must be done exclusively on ground adapted to this practice (circuits, grounds or courses) or private grounds for professional purposes by the owners of the grounds (agricultural activities, pastoral or forest). It is imperative to wear a full-face helmet consisting of one piece, resistant clothing protecting the legs, torso and arms, gloves and high shoes. The purchase of a Mini-Quad must be made by a person of full age. The use of a Mini-Quad by a minor must be done under the responsibility of an adult in charge. Minors under 16 years of age using this vehicle must be under the supervision of an adult. Read the owner's manual carefully before use. Never ride as a passenger. Apollo Motors undertakes to provide the spare parts of the vehicle for a period of 5 years after the date of purchase.