RFZ X15 125
Dirt bike 125cc Apollo Motors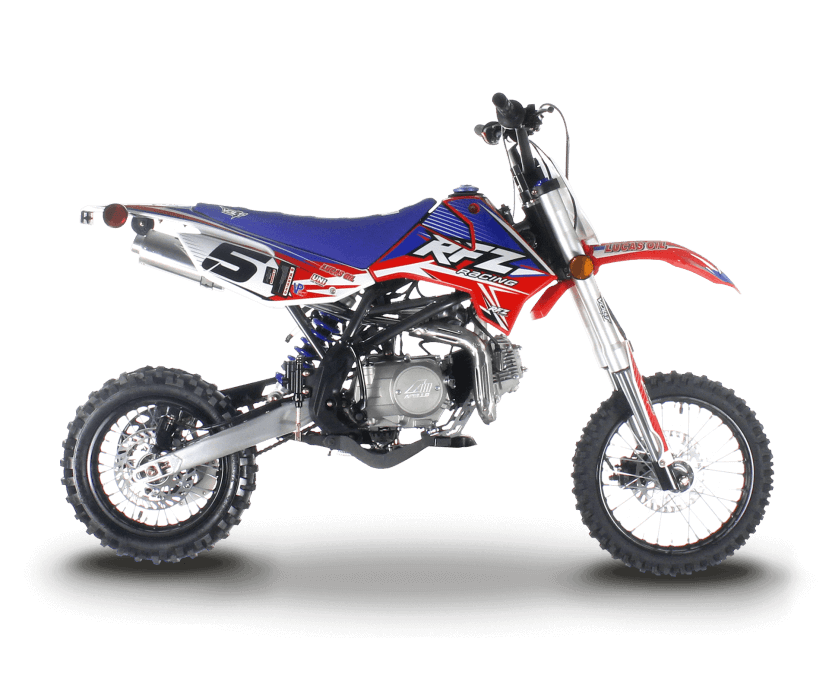 Discover the latest model of Dirt bike 125cc Apollo Motors:
The latest addition to the range, this motocross benefits from the latest generation plastics. Indeed, thanks to these the maintenance of your bike will be easier to do, all the elements are independent of the others, the rear fender is molded in one piece and the saddle is removable by hand by the above. This Pit bike is thinner than the others, its saddle is longer and therefore more comfortable and its tank is the largest of its class with its 4.7L capacity.
The cycle part has more to prove itself, because it was built on an already existing base since 2010, so nothing to fear reliability rating.
This bike is equipped with the 125cc YTX engine which is known for its reliability and power, you can then both go on a cross field or go on a ride with your friends ...
This RFZ X15 125cc is intended for any type of user, from the 16 year old to the adult who is not afraid to jump with his machine. This Dirt bike is equipped with 12 "wheels at the rear and 14" at the front, it is also available in large wheels and with a 125cc engine.
No more punctures, this bike is equipped with a wheel gripster on the back to block the inner tube and prevent valve tearing!
Very well suspended this Pit Bike is equipped with VOLT suspensions developed by Apollo Motors: Inverted hydraulic fork and gas hydraulic shock absorber.
With this dirt bike, you will be jealous so enjoy especially at this price!
New latest generation plastic kit
More comfortable, equipped with large wheels 12 "/ 14"
Saddle longer, more comfortable, removable by the top
Tank big capacity of 4,7L
125cc YTX engine
Reliability
Gripster rear wheel series
Engines
Rear 41 tooth, front 14 tooth
Cycle part
Inverted forks Volt V-ONE 750mm
Disc brake, simple piston
Steel hub 12" black axel of 15mm, tire 3.00-12
Volt Black, detachable on top
Chassis V803 central tubular in profiled tubes
Disc brake, doubles pistons
Steel rim 14'' black axel of 15mm, tire 2.75-14
Find a dealer
Find a dealer
Please enter your postal code to find the closest dealer