RXF PLUTO C1
The one and only city bike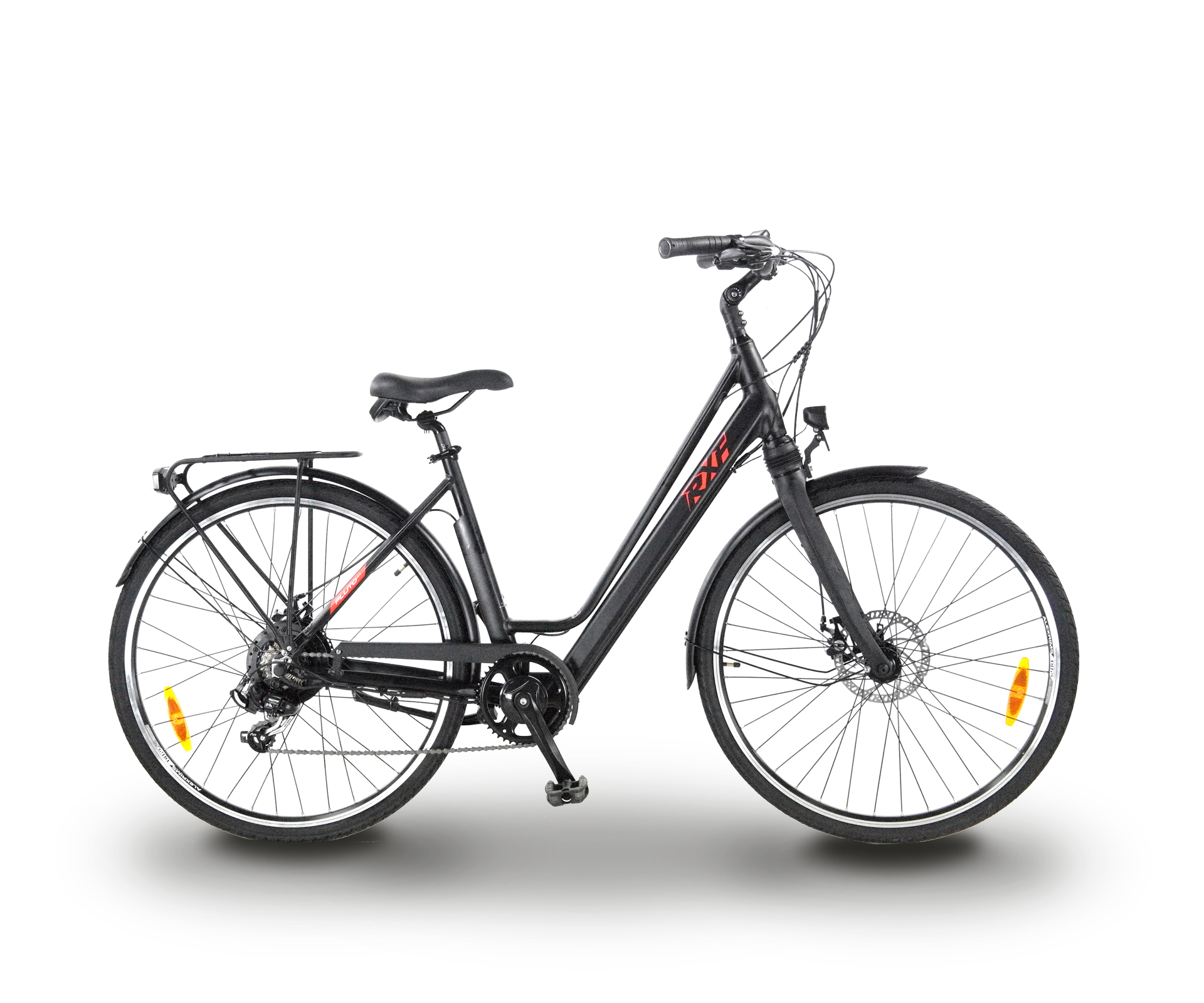 The RXF Pluto C1 is a lightweight 21kg electric bike (one of the lightest in its class) with 9-speed aluminum frame and 36v 10.4ah 350w motor powered by a SAMSUNG battery inside the frame. You can hardly say that it is an E-Bike. The Pluto C1 uses a cable design as integrated inside the frame that makes it look elegant and luxurious.
The RXF PLUTO C1 is made for road cyclists looking for a high performance bike on flat and on hilly terrain. It is also an interesting choice for days on the bike where ride are longer. This lightweight electric bike offers excellent aerodynamic performance, high performance and comfort. Climb steep slopes as if they were flat trails
The electric bike is also the way for you to extend the distance of your outings and discover new corners during your travels. The autonomy and the power of the battery coupled with a large staggering speeds allow you to cross all the reliefs and swallow kilometers easily. The electric assistance makes it possible to forget the ribs or the headwind. You will only have to enjoy the walk and the landscapes ..
The RXF PLUTO C1 is ideal for getting around the city, but it allows for great walks on the country lanes. The electric assistance on such a bike makes it possible to free oneself to hikes up to 70 km. It becomes an excellent means of transport for daily journeys without fatigue.
Engines
SAMSUNG - Li-Ion 10.4 Ah / 36 V
The closest Apollo dealer is more than 100km away?
Buy and finance your Apollo vehicle online now
Further information
The use of electrically assisted bicycles must be done exclusively on land suitable for this practice (circuits, grounds or courses) or private land for professional purposes by the owners of the land (agricultural, pastoral or forestry activities). It is imperative to wear a full-face helmet consisting of one piece, resistant clothing protecting the legs, torso and arms, gloves and high shoes. The purchase of an electric bicycle must be made by a person of adult age. The use of an electric bicycle by a minor must be done under the supervision of an adult in charge. Minors under 16 years of age using this vehicle must be under the supervision of an adult. Read the owner's manual carefully before using. Never ride as a passenger. Apollo Motors undertakes to provide the spare parts of the vehicle for a period of 5 years after the date of purchase.